What is Jintropin?
Jintropin made by GeneScience is the most popular rHGH sold in China. According to IMS, an internationally recognized marketing firm, jintropin is the absolute market leader in China with just over 75% market share. Jintropin is often smuggled into the United States as a means for patients to acquire HGH therapy illegally, and should not be bought in the United States. GenSci uses a proprietary technology called E.coli secretion technology which will produce a 191 amino acid sequence human growth hormone. This produces a high quality highly purified product resulting in no side effects associated with injection, such as red rash or welts at the injection site.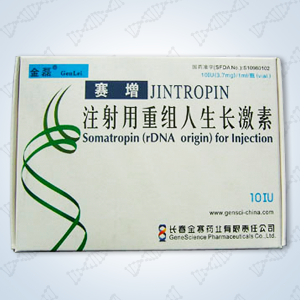 What is Jintropin used for?
Jintropin is most commonly used by people seeking to slow or reverse the affects of aging. Jintropin is also very popular with body builders, athletes, and celebrities, who use Jintropin illegally in order to benefit from the treatment. HGH can only be prescribed in the United States for the treatment of Human Growth Hormone Deficiency, and there are a number of legal brands available in the United States, such as Humatrope, Genotropin, Omnitrope, and Nutropin.
Jintropin Dosages
For anti-aging, general health & healing, fat mobilization.
For these purposes, a dose of 2-3 IU's per day will be sufficient for the majority. A dose of 1.5 to 2.0 IU's is considered to be a full replacement dose for those in their middle-age and beyond. At physiologic doses, human growth hormone products are very safe, but if you inject more than your body needs, you increase the risk of side effects.
For increasing muscles and improving body composition
A dose of 4-8 IUs per day will be needed to achieve this out come. Most people respond to the treatment well at a dose of 4-5 IU's per day. For extra benefit in this treatment, the addition of Insulin, Testosterone, and low dose t3 would be something else to consider. The use of HGH Therapy for these purposes is illegal, although patients with a legitimate human growth hormone deficiency can benefit from treatment in the form of improved muscle mass and reduced body fat.
About GeneScience
GeneScience Pharmaceuticals Co., Ltd. (GenSci), was founded in 1996 in the Changchun High-Tech Development Zone of China. They are the top producer of human growth hormone in China, holding a 75% share of the HGH market in Asia.